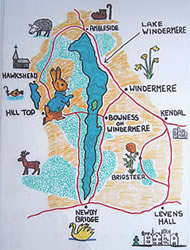 Lake District
, is located in the Northwest of England.
The breathtaking scenery,
the serenity,
the challenging paths up the mountain peaks and
of course the lakes, the calm water....
We went to
Windermere Lake
, which is at the centre of Lake district.
The cycling route we took was from Windermere Train station, across the lake using the ferry, towards Hawkshead and back.
4 1/2 hour cycling route, slow pace :D
Troy, AiAi, Ching Li, Betsy, Hui Lin, Li Shan.
All ready for the 4 and a half hour Cycling excursion!
19 pounds for a day-ride bicycle including protective gear...
Quite a reasonable price, considering that its a tourist attraction anyways..
Me with the bicycle helmet.. :P macam pro-biker konon.
Windermere Lake
The must-take picture !!!
WEEEE! JUMP! Fail...
My thighs and butt was aching so much, but had to continue using Gear 1 to keep up the momentum!
challenging enough for me, nice!
Stopped for lunch at Kings Arms Hotel at HAWKSHEAD town.
FINISH POINT!!!
Exactly 4 and a half hours! :D Minus lunch time of course. tee hee..
All still intact, arms and legs, no bruises, no injuries... Thank God :)
Maybe a blueblack butt tomorrow.. lol.
Best pic of the day..
Was really a good day, slow-paced ride, fun, exciting..
Mountain biking, maybe should do it more often..
ps: it didn't rain! tq tq! it rained the whole week.... and it rained just after we finished at 5pm! ;)
Taking a more challenging cycling route! ;)